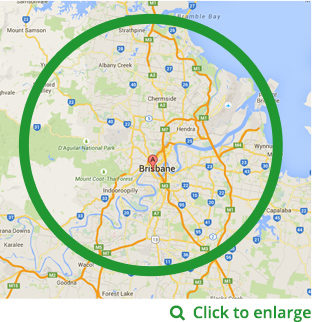 Local Gardenwize Delivery
Gardenwize deliver using our own preferred company vehicles, this insures the highest safety conditions for all delicate goods. We also use our own trusted staff members to carry out the delivery, so you can be assured your purchases are always in the hands of a professional.
If you select this method for delivery and are in the catchment zone as shown, a Gardenwize staff member will deliver them to the specified address.
Cost is $45 for delivery in the catchment area.
Delivery price outside the catchment area may vary, depending on where it is going.
Deliveries can only be done in Queensland at this present time, we do not transport any of our stock into other states or countries.
Please Note, all deliveries must have an area to park our company vans at the time of drop off. This means that deliveries to offices, apartments or in the City can not be done unless given a designated parking place. Our vans are around 2.7m tall, which makes underground parking difficult as well. Please confirm in the notes section when making an order that there will be an area to park before placing any orders.
Click & Collect
Just because you are purchasing these items online does not mean you are forced to spend extra for a delivery. Once you have paid fully for your Purchase we are happy to hold your order at the nursery for up to 5 days, giving you plenty of time to organise a pick up.
These products will be taken care of but we ask that you not forget about them, as space does become limited and other orders will require our care. Should You not pick up your goods within this time frame, please notify us by calling or emailing, if you wish for us to continue holding after the 5 day period, a $10 holding fee will apply to each order. This will cover time and resources needed to keep your purchases in perfect condition.
Payment must be paid in full before we can hold product aside for you.
No extra charge will be added when you select "Click & Collect" as a delivery option, as long as your order is picked up within the 5 day time period.
If you have any concerns or questions about price or area, please feel free to call or email us, and we will be happy to discuss the options available to you.
---
Refunds and returns
At Gardenwize, we pride ourselves on giving high quality products and service. So if for any reason you're not happy with your purchase, we will do our best to fix the problem.
The utmost care and attention is given to your order at all times to ensure that everything is handled delicately and professionally, if you wish to return your purchase please contact the nursery and explain to one of our very understanding staff members to arrange a full return.
The benefits given to you by our Returns Policy either reflect our obligations to you under Australian Consumer Law or otherwise in addition to the rights and remedies you may have under the Australian Consumer Law.